RESEED HAIR LOSS CASE STUDIES - MEN
The most common cause of hair loss in men is Male Pattern Baldness, which is usually caused by the combination of genetics and the male hormone dihydrotestosterone (DHT). At Reseed, we understand that hair loss for men can have an effect on your confidence and general well-being, whether it be a receding hair line or baldness on the crown of the head. Our natural hair loss and scalp range has helped many people with a variety of hair loss and scalp conditions.
You can find below some the experiences of our Reseed Users, who have kindly given us permission to share their story and images on our website.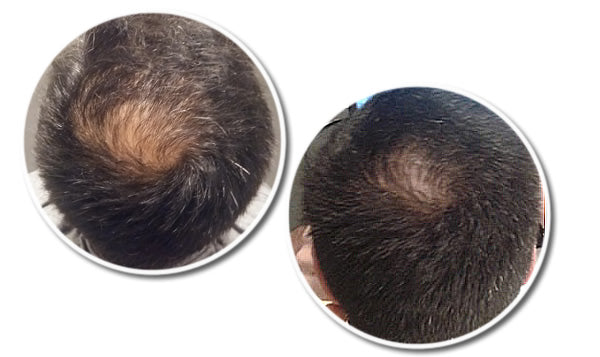 GEORGE'S STORY
George is a city trader and has experienced male pattern baldness, the most common cause of hair loss in men. He believes his hair loss has partly been inherited, as his father and older brother both suffer from male pattern balding, and are now almost completely bald. With his own symptoms becoming progressively worse, George could see the 'writing on the wall' and wanted to try something different to address the problem. He was recommended the Reseed range by a friend, who also happened to be a Trichologist.
The Experience: George started by using a combination of the R12 Tri Peptide Active Hair Serum and Fortifying Shampoo. Within just a week, he felt and saw that there were less hairs left on his pillow.
The Results: After 3 months of using the Reseed range of products, both George and his wife, Maria, we very happy with the results. George felt that he was 'absolutely more confident' since using the products, and says: 'There's clearly been an improvement, better than I expected to be honest…[I'm] very pleased with the results thus far'. Maria, George's wife, has even commented on the regrowth of his hair. She says: 'After 3 months, my husband has stopped losing hair and is having more new hair now grow, even in the worse areas'.
Products Used: Reseed R12 Tri Peptide Active Hair Serum for Women, Reseed Gingko and Sabal Fortifying Shampoo for Women, Reseed Wheat Bran Ultra Volume Conditioner for Women, Reseed R21 Unisex Micro-Nutrients Supplements.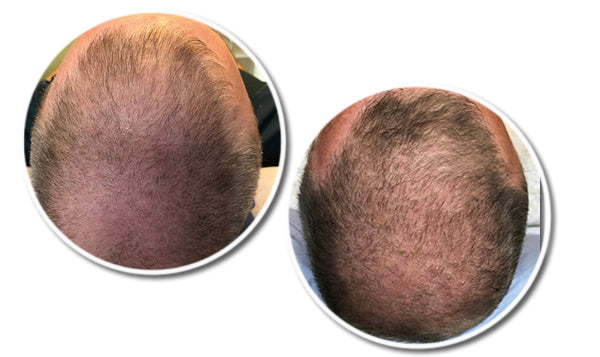 JOHN'S STORY
Having experienced thinning hair, John decided to sign up for a clinical trial being done by a renowned London Tricholigist, using the Reseed products. He completed this trial for an intensive 8 week period. John felt that the thinning of his hair had been becoming 'more and more noticeable' over recent years, so wanted to do something about it. He decided to complete the trial with Reseed products, as unfortunately other treatments hadn't work for him.
The Experience: After an initial consultation with the Tricholigist, which included a hair and scalp analysis and microscopic photos of his scalp, John was recommended to use the R12 Tri Peptide Active Hair Serum. With further consultations and hair and scalp analysis taking place weekly, John started to see a change after just 2 weeks of using the Reseed product.
The Results: John has seen 'significant improvement in the thickness' of his hair, saying that the 'general health of my hair' has also improved. After completing the consultations with the Tricholigist, John is now using the Reseed products himself and hopes to see further improvement over the coming months.
Products Used: Reseed R12 Tri Peptide Active Hair Serum for Men..

NERO'S STORY
Nero (who is originally from Italy) has experienced hair loss and hair thinning. He decided to enter a Reseed UK Facebook Competition and won the full set of Reseed products, and has used them ever since. After receiving the prize, he has continued to use the Reseed R12 Tri Peptide Active Hair Serum, Fortifying Shampoo and Ultra Volume Conditioner for several years now.
The Experience: Having initially won the products Nero openly admits he didn't "use them properly at first", as they hadn't cost him anything. But there was still a noticeable improvement, so he decided to use them more consistently.
The Results: Although, he preferred not to continue using the supplements, the use of the R12 Tri Peptide Active Hair Serum in particular gradually "improved the body and volume" of his hair. Within a few months of using the Reseed products, almost total regrowth happened.
Very pleased with the results to date, Nero recommends the products to all his friends who suffer from the same problem. Furthermore, as he has been so impressed, Nero has also tried to deal with distributors in his native Italy, to introduce Reseed to the market there.
Products Used: Reseed R12 Tri Peptide Active Hair Serum for Men, Reseed Sabal and Neem Fortifying Shampoo for Men, Wheat Bran Conditioner for Men.